Speaker
We are proud to announce new speaker. This year Christoph Backes, Tsitsi Dangarembga, Jósephine Derole, Antoine Le Bos and Fabienne Tsaï replenish the symposium. 
Films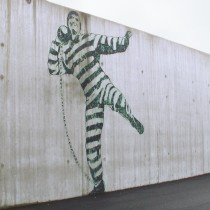 The first both films are confirmed. The 3D-short film EVE without any dialogue set from Eric Gandois and CATHEDRALS OF CULTURE which offers six startling responses to the question "If buildings could talk, what would they say about us?" 
Art at BEYOND
This year's BEYOND will feature not only different talks, but also different kinds of art. The installation "LIQUID CRYSTAL" by MISUNG, "audio morphing" as well as "dissolutio" by Dr. Vesna Petresin-Robert, Ruberdo will be part of BEYOND.
New Speaker
BEYOND is happy to announce the first group of new speaker for this year's symposium. Prof. Asun López-Varela, Timo Heinänen, Prof. Markus Gross, Edgar Gonzalez and Alfonso Ruiz Rallo are the new faces at BEYOND.
SAVE THE DATE
The date for this year's 3D-Symposium "FUTURE DESIGN" is determined. It will take place from the 09 - 12 of October 2014 in the ZKM.